Positives
Roadmap and Metaverse game look worth investing in
Negatives
Higher mint fee than most but this may make it easier to get one
It all started with an Explosion in the center of the Earth, giving life to 11.000 Atomic Antz unique NFT's. Some of them are extremely rare, digital collectibles living on the Ethereum Blockchain. In order to preserve "The AntHill" we must protect the Queen! Each Antz Holder will have exclusive access to "The AntHill". It will also grant ownership and full commercial rights of the Antz you choose to adopt.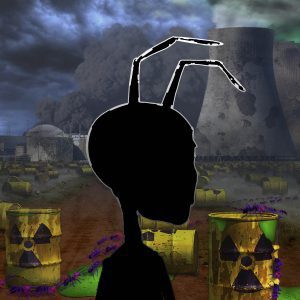 NO BONDING CURVES-NO FOMO. EACH ANTZ COST 0.08 ETH. THE SAME FOR EVERYONE!
ALLOCATION
Early adopter reward 275 Random Antz Airdrop (2.5%)
Auction for causes we support 275 Antz (2.5%)
Crew members 55 Antz (0.5%)
Locked Antz for special promotions 110 (1%)
Pre-sale 10285 Antz (93.5%)
PROPERTIES
All 11000 Antz are totally unique, randomly generated with our exclusive +250 authentic traits and designs. If you are lucky enough you'll get a Super Rare Queen or Maybe an Ultra Rare Worker!
7 DIFFERENT PROPERTIES TO BE DISCOVERED
BACKGROUND / SKIN / MOUTH / EYES / ANTENNAS / HAT / OUTFIT
+250 Hand Draw traits
2% Royalty For Creators
2% Royalty For Colony Wallet
METAVERSE
Every Antz Holder that buys on Pre-Sale, will be airdropped a 3D Antz Avatar to be used in the Metaverse to play The Z Games.
YOU MAY BE WONDERING WHAT ARE THE Z GAMES & WHAT IS THE UTILITY OF ANTZ
In simple words, is the VR of the original "X Games" (Extreme Sports) for ANTZ in the Metaverse. Antz Holders will be able to play, create teams and compete with each other.
Also to make The Z Games more exciting we will include audience participation and voting. You as a player will be able to Live Stream on social media platforms.
Do you think you got what it takes to play The Z Games?
If you do… Let the games begin!!
The Z Games experience will be available 1st QT 2022.
A special place to PLAY, EARN & HAVE FUN between members of our community.
Additional add-ons & features will take place in the near future activating our voting system with the participation and support of our community.
"BE READY FOR SOMETHING ATOMIC" PRIVATE ACCESS FOR ANTZ HOLDERS"
HOW TO BUY?
DATE AND TIMES / PRICE
Atomic Antz Pre-Sale will take place August 2021 exclusive on our website. The Antz will be randomly selected and it will be minted on the Ethereum Blockchain and delivered to your wallet.  (Early adopter reward!  275 Antz will be airdropped to pre-sale Antz adopters. See our road map)
Limit Buy: You can buy up to 20 Antz at the same time paying just one time Gas Fee.
Atomic Antz NFT's Collection will be available at Open Sea as a secondary NFT Marketplace https://opensea.io/
Full ownership and commercial rights granted when you adopt and Antz from the "ANTHILL".
Price: 0.08 ETH + Gas fee. The ANTHILL will Protect you for a Fair Pricing Distribution.
How to buy? 4 Simple Steps
Download Metamask extension for Google Chrome. https://metamask.io
Add Funds to your Wallet
Connect your Wallet to Our web site with the Google Chrome extension
Click in the Link on top page "MINT ANTZ" and adopt your Antz.