Dwarfs Alt World (DAW) is dropping this September 15th, 2021.
DAW is the main collection of 9999 NFT representing amazing Dwarfs-survivors. Each NFT is shipped as an ERC-721 Token on the Ethereum blockchain.
Pre-sale TODAY (1-500 tokens with a special price 0.05 ETH | 501-1000 tokens with a special price 0.06 ETH )! Sale – 15th of September with a price 0.07 ETH!

DWARF
Your greedy alter ego. That was born the moment the first bitcoin block had been mined.
Dwarfs were evolving through the crypto generations of Satoshi Age, Ethereum, ICOs, and Defi. Finally, they'd found a way to reveal themselves. By injecting their addictive and greedy souls into the fucking NFTs.
So the collection of 9999 jpegs (NFT) was created – Dwarfs Alt World (DAW).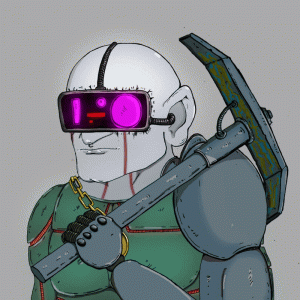 ROADMAP
Phase 1Social Media presence and marketing. Discord, Twitter and Telegram.
Phase 2- Pre-sale of 1000 DAW NFTs:
500 – 0.05 ETH price
500 – 0.06 ETH Price
– 150 of DAW NFTs are reserved for giveaways (basically for you, fellow Dwarf) and the team
Phase 3: Public Sale – 8,849 DAW NFTs- 10% sold: In-game token (ERC-20) development
– 25% sold: Staking system development
– 50% sold: Breeding development
– 75% sold: Community wallet deployment with the initial balance of 7 ETH. Also we will donate 7 ETH to charity.
– 100% sold: Get ready for the airdrop. For each Dwarf holding you will receive 100 in-game tokens.
Also, we will begin the injection of 1,5% royalties from the secondary market sales into the liquidity pool for DAW ERC-20 token.
Phase 4:NSFW Collection limited sale
Phase 5:The merchandise phase! We launch the DAW Merch store!
Phase 6Battle game development and release
LORE
Thousands of years ago there was an unusual village on the west coast. Dwarfs lived there. They were an unbeatable nation. Nobody couldn't fight with them, but themselves… The son of the most important Dwarf fell in love with the usual girl, but she had so many angry brothers. They didn't like her boyfriend and the battle started.
This war was incredible, a lot of Dwarfs went away from the village, they were afraid. Some dwarfs used a pick like their weapon, You can see it on our tokens. Others used a sword. Children and women hid in their houses, anarchy came to Dwarfs country. The war ended only ten years later.
A lot of Dwarfs died, the only X left. Survivors became strange, somebody computerised, others robotised. Their faces became crazy. They couldn't recognize themselves in mirrors. One of the brothers used a specific weapon – his brain. He found a system that could kill everyone just for a second, only crypto-code was needed for it.
Now You can become a part of this amazing story, the special survivors are here, in our new NFT collection!
Our Thoughts on the Dwarfs Alt World Drop
The artwork on these is kool and more than that they have a very thorough and well-constructed road map, a good team, and are well organized, the pre-sale gives you access to minting a lot cheaper than the normal drop time so it's worth getting into their discord early.
Dwarfs Alt World (DAW) Details