Positives
Great fun artwork
The Evil Genius Science Club (EGSC) is a limited edition run of 10,000 mad scientists by artist/cartoonist Jordan Lyrics. This crazy collection of evil geniuses is a can't miss drop, each one weirder and crazier than the next. Jordan Lyric is a multi-talented artist, cartoonist, and also a musician with a wide variety of past pieces of work.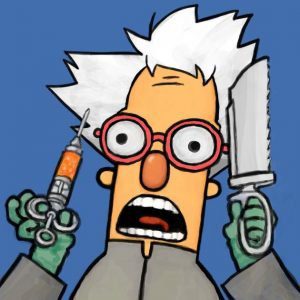 The Evil Genius Science Club NFTs will drop this Sunday on September 12th, 2021.
Click here to join the Evil Genius Science Club Discord
Click Here to visit the website
Our Thoughts On The Evil Genius Science Club NFT Drop
Jordan Lyric providing the artwork which gives this drop a lot of appeal on the NFT artwork side of things, Dropping this Sunday (gas sometimes lower on Sundays) and it looks like one to keep on your watchlist!
Evil Genius Science Club NFT Details