Hilarious Huskies is an NFT collection inspired by Siberian Huskys which are loyal, friendly, and plagued with wanderlust. This collection is a tribute to our furry friends.
Minting more than one of this NFT enters you into a jackpot where you can win up to 6.4 ETH by owning more than 15 huskies. Max mint per wallet is 20.
Mint Price: 0.025 ETH
Total Supply: 3000
Minting: NOW
Your NFT also doubles up as a membership card that will allow you access to enhancements as we hit future project milestones which you can get further information on here.
Click here to visit their website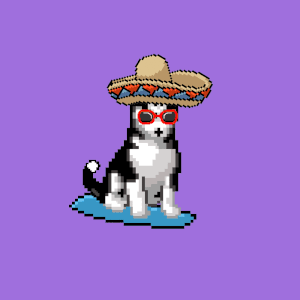 Get a verifiable profile picture with your favourite Hilarious Husky NFT
Turn your NFTs into verifiable ID assets you can use as a proof-of-identity. Prove that you own your NFT's on any social media platform or turn them into a proof-of-identity by getting them into MyWalliD wallet.
Hilarious Huskies is part of the beta program at WalliD!
Woofmap (Roadmap for Hilarious Huskies)
Built to last, powered by the community
While Hilarious Huskies is starting out as an NFT project, the goal is to make this a lifestyle brand, focusing in on dog (and really all animal) lovers.
Phase 1
NFT projects can be about a lot of things. For us, it's about building a community of like-minded people. Yes, we love the art and we love the code, but our primary objective is going to be creating an environment for the community to thrive… and have some fun along the way. Art projects shouldn't need to have a roadmap, but in today's NFT environment – with all the rug pulls, low effort art, scams, copycat projects and just general shitiness, we need to stand out and give our holders value over and above what is essentially a cute pfp.
We want to hit 100% of what we set out to do, so we will be calling on the community to vote on what we do first. One token, one vote.
Phase One 2021
Deliver 3000 new-born pups to their new owners launch Husky Chat – a messaging tool that will allow HUSK holders to speak with and engage other holders directly through the Hilarious Huskies web app.Jackpot – 16% of all total sales from the mint will be set aside for the jackpot which could potentially be valued at around 12 ETH. Four winners will be announced after the initial mint.
Listings with Rarity.tools and Rarity Sniper

Phase Two 2022+Merch: Verified holders can purchase Hilarious Husky apparel with their Hilarious Huskies printed on the Burn mechanism: holders will be able to breed a new husky by burning two husky tokensDevelopment and release of HH DAO with $HUSKY token airdropped to all hodlers proportionallyLive Events in your city
Our Thoughts On The Hilarious Huskies NFT Drop
Certainly, one for dog lovers this, low supply and a good woof map sorry..roadmap means it could well be worth getting in and holding for the long term.