Positives
Solid Roadmap, Filled WHitelist and good following
Negatives
May sell out so act fast
Inglorious Orcs Brawl Party is a hand-drawn collection of 10,000 NFT's on the Ethereum blockchain. The Inglorious Orcs are the descendants of an ancient forgotten horde. Only a few survived from their journey to the Metaverse and they are more than ready to rumble.
Mint Price: 0.08
Supply: 10 000
Presale: October 13th, 10 PM UTC
Mint Date: October 15th, 10 PM UTC
Click here to visit their website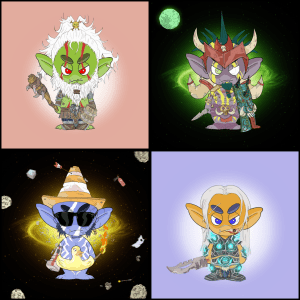 The Story
The Inglorious Orcs are the direct descendants of an ancient forgotten Horde, only a few survived from their epic journey through wars and seasons to finally arrive at the Metaverse.
The Inglorious Horde is composed of four Tribes, they have different origins, skills, and beliefs.
Each one is characterized by specific physical attributes (skin color, eye color) and a different background.
The Broken Claw Tribe
This is the most ancient Tribe, their true origin remains unknown. Many legends float around this tribe but the evidence is just not there…
Through thousands of years of wars and battles, they became masters in short-range deadly weapons. They are well-known for their fierceness and mercilessness on the battlefield as much as being a heavy drinker in the tavern.
Their physical characteristics are a green skin and red eyes (and red background)
The Smoking Cleaver Tribe
Half-human, half-orc, they were the result of a tumultuous alliance between Humans and Orcs hundred years ago…
During these years, they have been learning human fine crafting. They are renowned blacksmiths within the Horde. Their unbreakable weapons provide them a solid income but their addiction for gambling and prostitutes make them loose most of their profit.
Their physical characteristics are a beige skin and blue eyes (and a blue background).
The Howling Forest Tribe
Once Elves, they were banished, enslaved and tortured for hundreds of years by their pairs. After a violent and bloody rebellion, they eventually escaped but paid a heavy price amongst the tribe.
With a resentful heart but undaunted spirit, the tribe started to grow again and to expand across the continent. They are the most resilient of the Horde. Their bodies can endure unimaginable pain and their spirit is unshakeable, it potentially explains their interest for psychedelic drugs, bondage and BDSM parties.
Their physical characteristics are a blue skin and yellow eyes (and a yellow background).
The Cursed Bone Tribe
They are the result of a shaman's madness and recklessness. Despite the warnings from the horde elders, his attraction to the obscure sorcery led him to experiment. He started uttering incantations and waking up the darkest spirits and forces from the other worlds. The Shaman realized his mistake but it was too late, the evil forces had already infiltrated the orcs minds and corrupted their souls. They are the most unpredictable and aggressive Orcs of the Inglorious Horde and are feared for their cruelty and use of black magic. Their deep knowledge in shamanic rituals and herbalism make them the best drug dealers in the blackmarket, The Howling Forest Tribe being their most loyal customers.
Their physical characteristics are a grey skin and green eyes (and a green background)
Full Moon Events
After mint, a dedicated Discord channel will announce the Full Moon events.
The Inglorious Orcs are constantly seeking for spiritual guidance and the Full Moon days are sacred for them.
Every day of Full Moon (approximately once in a month), in order to settle rivalry between the Tribes and to please the Ancients, the 4 Tribes meet in a contest.
The winners get rewards and privileges until the next Full Moon.
To participate, you will need to own at least one Inglorious Orc of your favorite Tribe.
Rarity
Each Inglorious Orc is algorithmically generated by combining more than 300 unique traits & items with varying rarity across categories.
Each Tribe is caracterized by a specific skin color, eye color and background.
Chiefs (unique pieces)
There are 4 Chiefs, each Tribe is led by a 1 of them. They are unique pieces and the rarest of the collection.
Any familiar traits to famous Orcs from gaming or cinema industry might be purely accidental…
War Heroes (carrying Legendary equipment)
There are 200 Heroes (50 per Tribe). They are the most honored warriors of the horde and the only ones carrying at least one Legendary item that once belonged to former warlords.
Wanderers (carrying Inglorious equipment)
There are 1000 Wanderers (250 per Tribes). They are the only ones carrying at least one Inglorious items that they found in other dimensions during their trip through the Metaverse.
Warriors (carrying Epic and Classic equipment)
There are 8796 Warriors (2449 per Tribe). They are carrying Epic or Classic equipment, Epic items are rarer than the Classic ones.
Any unit class will have a specific background.
Inglorious Orcs Brawl Party Road Map
1% – Drop of the 10,000 Inglorious Orcs ready to invade OpenSea.
10% – Creation of a dedicated private channel for each Tribe, you will only have access to the channel of the Tribe you picked. Leader roles will be granted to the most engaged members of each Tribe.
20% – Beginning of the Full Moon events the 20th of October. Every day of Full Moon, there will be contests between each Tribes in the Full-moon-events channel. To participate, you will have to own at least one Inglorious Orc.
30% – Reveal of the Hidden Traits of the Inglorious Orcs.
40% – The first 1,000 Inglorious holders will have a chance to win a framed print of their favorite Inglorious Orc shipped to their house.
50% – The most implicated members of each Tribe will receive an exclusive Tribe Banner and will earn a special status in the community.
70% – New drop: the Immortalz Inglorious Orcs. Kesdo, our designer, has already started to work on the new collection.
80% – Development of a Merch Store around the IOPB universe. We will be open to work on collaboration with community members and artists.
90% – The Inglorious Game. The team is developing a multiplayer RPG/Strategy game based on the Inglorious Orc universe. The first version of the game will be on Discord. There will be a levelling, fighting, trading, grinding and reward system directly incorporated in the server. During the Full Moon events, amongst different contests, there will be challenges and quests with rewards specifc to the game (e.g consumable items and more). To play the game, you will need to own at least one Inglorious Orc. More details will be disclosed post-mint.
100% – Post-mint Roadmap update.
Our Thoughts On The Inglorious Orcs Brawl Party NFT Drop
This one looks mad to be honest with a solid early roadmap a maxed-out NFT whitelist already and a big following to boot all signs point towards sell out on this, so keep your eyes out on drop day!