Positives
Huge utility potential
Negatives
Artwork not the best
At Kings, it's as real as it gets. We are half part ambition and half part innovation. Kings meet at the crossroads of luxury and authenticity. We are building the world's first decentralized soccer team.
Drop Date: Pre-sale on Sunday, October 17th.
The public sale is going to be open on Monday, October 18th.
Total Supply: 10,000
Mint Price: 0.09 ETH
Click here to visit their website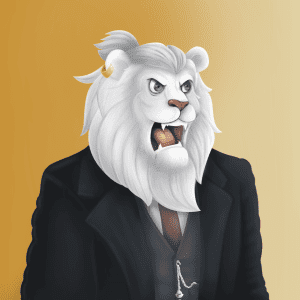 We are incorporating decentralized decision-making with the wonders of blockchain to offer a truly revolutionary experience to our holders.
The Ethereum blockchain has opened up tons of opportunities that were just unheard of just in the recent past. Kings is about utilizing the possibilities of the non-fungible token (NFT) art hosted on the blockchain.
We offer exclusive high-quality NFT art pieces that signify community and luxury. More than art, this is your ticket to enter a life-long community of high achievers and innovators.
Kings NFT Roadmap
Make an impact
All achievements are incomplete without a tangible impact on the world around you. To fulfill our responsibility towards society, Kings believes in giving back to the community: 1% of our sales are donated to charities like the Worldwide Fund for Nature and the Surf rider Fund. A percentage of our royalties also go to select charities handpicked exclusively by our holders.
The world's first decentralized soccer team
Our ultimate ambition is to buy and manage collectively a decentralized soccer team. The team will be purchased using a portion of our sales and then all of the decisions will be made by all of the Kings holders using a Decentralized Autonomous Organization (DAO) model.

Home and away games will be streamed live on our website and as a Kings holder, you will vote on all the important key decisions regarding the club, including coach identity, tickets prices, scouting decisions and much more.
In addition, all related-club revenues will be kept in a dedicated treasury. The treasury would be used to buy new players, hire new team staff and also share the revenues with every Kings holder.

Live your dream of owning a real-life soccer team.
Merchandise that's truly yours
Collaborating with upcoming and established artists, Kings will produce a line of immaculate personal merchandise for its holders. Only available in limited quantities and exclusively for our holders, you get a chance to express your style in a manner uniquely your own.
The White Lion Club
All Kings holders gain access to the White Lions Club – an exclusive luxurious business lounge. You may discuss the latest NFT or crypto currencies there or just handle a private matter.
The Kings Wine
Every exclusive club requires a drink its very own. At Kings, we make our wines with a sublime taste that's unmatched anywhere else. Insured and stored in a temperature-controlled facility, Kings Wines' every sip tastes like victory.
Our thoughts on The Kings NFT Drop
Though the artwork could be better there are bags of potential with a doxxed project team and the potential of owning part of the first decentralised football teams via NFTs is mad.