Negatives
Roadmap Is Lacking
What are Krazy Koalas? Krazy Koalas are a collection of programmatically generated NFTS on the Ethereum Blockchain. They are a collection of 9999 randomly generated koalas, with over 130+ total assets all with different rarities. Some of the different assets include outfits, faces, backgrounds, and more! This is a very Krazy, High Koala-ty Kollection that we hope you fall in love with!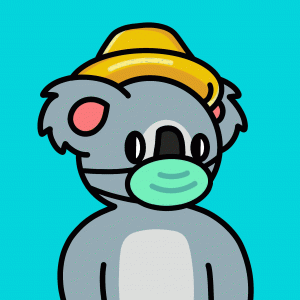 EVERY KOALA IS UNIQUE
With over 130 different assets, each individual koala in the collection will be unique. As previously stated, some of the assets are more rare than others. On top of this, we have hand-created 9 Super Koalas which will be the 9 rarest koalas in the collection. These koalas stand out from the rest and we think you will love them. 8 of these super koalas will go out randomly during minting, 1 will be airdropped to an early minter, and the last one is being saved by the team for a future giveaway
Our Thoughts On The Krazy Koala NFTs
The artwork is good enough to get this project noticed and if the road map is delivered as promised it can certainly build a big following it seems destined for a blue tick on Opensea, to say the least.
The roadmap is not the best roadmap mind you but this is the kind of thing that can be tweaked along the way, I expect over 100 ETH traded in the first month for this one.
The mint price is so low (0.01 ETH) they are almost giving them away and as gas fees on Ethereum are so high currently this can certainly help them sell out a lot faster.
View the collection here (After mint)
Thanks for looking at the Krazy Koalas drop page, if you want to get your NFT drop added to the list get in touch.