Mad Banana Union is 6969 pieces of mad art. A unique digital collection of diverse mad NFTs slipping on the Ethereum blockchain. Each one is thoughtfully designed, specifically picked, and impeccably shaped. Join us on our journey and have a mad time with mad nanas. Having a Mad Banana Token grants you creative and commercial rights, unique merch, access to private chess competitions, as well as inclusion in a private club.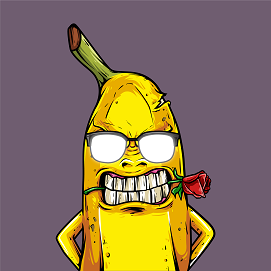 The price is 0.0420 ETH per piece + gas fee, no bonded curve here. Transactions will be limited to 10 Mad Bananas per transaction. They will then be available on OpenSea.io
Mad Bananas will be revealed instantly.
Each Mad Banana has been constructed algorithmically by mixing a variety of properties with different possibilities in the following categories:
Background, Eyes, Mouths, Skin, Hats, and Madness.