Positives
Awesome artwork and huge prizes on offer
They have been preparing this heist for a long time, and now they are about to hit the $ 250,000 jackpot, which is stored in our secure vault. The plan is ready, actions are coordinated. Become a member of MMG – the countdown has already begun.
10,000. Mad Mask Gang NFTs will be minted on drop day, They will be randomly generated from 441 traits such as Masks, hairstyles, eyes, clothes, accessories, and much more! There are more than 350 trillion possible combinations!
Click here to join their Discord
Mad Mask Gang – Purchase an NFT character with a mask and complete the $250,000 heist.
(Payments will be issued in ETH)
A week after the 100% sale the game "Heist" will be launched in a separate section. All the holders of the NFT Mad Mask Gang will be able to participate. The prize fund of which will be $250,000.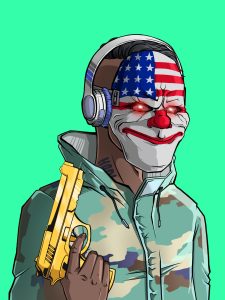 Mad Mask Gang Roadmap
Here is the MMG (Mad Mask Gang) Roadmap from launch.
0% Sold – The first NFT Giveaway
25% Sold – The second NFT Giveaway
50% Sold – We upload MMG rarity to Rarity Sniper and Rarity Tools
75% Sold – The gang is almost assembled. The preparation for the Heist with the prize fund of $250,000 begins. Soon, the registration for the Heist will be opened. The registration will be available for those who have already purchased the MMG and became the member of the gang
100% Sold – The gang is assembled. Get ready to take part in the Heist of the bank vault with the $250,000 prize fund. The game is about to start
In addition, they have a lot of surprises in store for you that are completely new for NFT and resale.
Become a member of the MMG gang and take part in the Heist of the bank vault. When the gang is assembled, preparations for the robbery of our bank will begin. The prize fund is $250,000 (all payments to winners will be issued in ETH)
Every NFT MMG owner will get a chance to take part in a heist, regardless of the rarity
Our Thoughts On The MMG Drop
The artwork is insane on these NFTs, the chance to win a quarter of a million (shared between winners) is mind-blowing and a major selling point for these, receive the winnings in ETH also.
The artwork alone is worth minting I can see these selling very well on their main drop!
Mad Mask Gang NFT Details