10,000 OUTLAW PUNKS ARE ON THE RUN! If you see them please catch them as they are ruthless, mean, and cruel.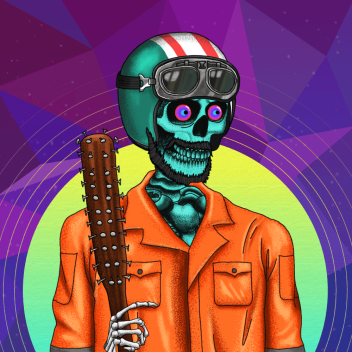 Some of their crimes include:
Breaking spaghetti in half
Pieing on the birthday boy
Toilet papering neighbors' house
Challenge others to eat tide pods
Putting pineapple on pizza
Buy all even number seats in the Cinema at Valentine's Day
Catfish in Tinder
Showing up on Prom with two girlfriends
Brought vegetable to a Super Bowl party
No retweet, share and like on Outlawpunk posts!!
Unbelievable and unacceptable crimes!! Fortunately, we know that they are currently escaping to the Ethereum Blockchain. Now we need everyone's help so we can catch these outlaws! Even they are with different outfits, eye colors, weapons and headpieces; we will catch them all as we have a strong community!
Drop Date: Oct 16th, 3 pm UTC
Mint Price: 0.05 ETH
Total Supply: 10,000
Click here to visit their website

Features
The biggest difference between us and other NFT projects is the continuing development, and Outlawpunk is truly a community-based project. Traditional NFT projects would stop the development after the first batch minting, but for Outlawpunk we will continue to finish our backstory and add crime descriptions for different Outlawpunks that minted.
Those lucky members that own legendary and rare Outlawpunks would still make a good amount of money. However, with more development ongoing, those who have common outlaw punks might also have a higher floor price due to more funny crimes being associated with different outlaws!
It is a community-based project and more funny crime ideas will be collected from the community, and therefore this development will be never-ending; which can drive up the floor price in the long run and create a stronger community.
4 Levels Of OutlawPunks
Legendary (1%) Rare (5%) Uncommon (20%) Common (74%)
The Outlaw Punks NFT Roadmap
0% – Intel showing 10,000 Outlawpunks are on the run!!
10% Sold – 1 ETH giveaway for every 1000 Outlawpunk minted
25% Sold – 10 Outlawpunk will be airdropped to the most active members in our community
50% Sold – Another big influencer will be onboard!
75% Sold – Donation to a charity based on community choice
100% Sold – A lucky draw for a tesla car, a Rolex, and 3 ETH for 3 lucky community member
Our Thoughts On The Outlaw Punks NFT Drop
Kool artwork, and extra cool as we are drawing closer to Haloween there should be a lot of hype around ETH NFT projects like this the week when Halloween occurs in my opinion and this will be no different.