Adopt your own SOLMON
The International Space Agency has discovered that on October 24th 2021 at 7 PM UTC a rupture in the space time continuum will occur, which will result in the creation of 9.999 Solmons.
The infamous collector and ruler of planet 42069 "Zamega" will send the notorious "Solanian's" to catch 'em all. Adopt your own Solmon to keep them safe from the Solanians.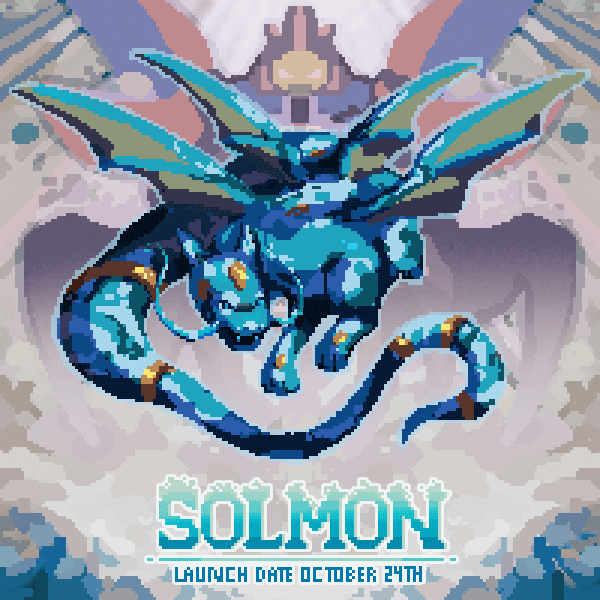 Drop date: October 24th, 2021
Mint Price: 1.5 SOL
Click here to visit their website
The Solmon NFT Roadmap
Here is the Solmon NFT roadmap there are phases for each section of this roadmap.
Phase 1: Adopt Solmon
Adopt your own Solmon to keep them safe from the Solanians! Main Launch date, on Sunday, October 24th 2021 7 PM UTC, the remainder of the Solmon will be minted
Phase 2: Breed Solmon
Once the first stage is completed the 2nd stage starts. In this stage you will be able to breed your Solmon with each other to create an entirely new Solmon with unique traits
Phase 3: Solmon Battle!
This is the battle stage. Once the above stages are completed you will be able to battle other Solmon! Watch out if you lose your Solmon will faint!
What makes Solmons special
Solmon isn't your run of the mill art generator you usually get with other NFT projects. Each Solmon will have their own unique design and characteristic traits. This means a completely different appearance for every single Solmon with its own dimensions. On top of that every Solmon will have their own elemental types and attack stats to help them out in the battle phase later along the line.
Types of Solmon
Solmons can exist of 7 types: Electric, Fire, Water, Grass, Ghost, Psychic and Dragon. Furthermore keep an eye out for rare and unique Legedary Solmon!
Colours and Effects
Each Solmon will have a small chance to have an effect and/ or a special colour. These unique effects will make your Solmon catch your eye.
Attack Rating
In phase 3 the attack rating of your Solmon will matter a lot! Will you be the strongest trainer and Solmon pair to dominate the League?
Zamega And The Evil Solanians
For thousands of years Zamega has ruled over planet 42069, with the Solanians as his henchmen. As an avid collector of rare objects and animals he has terrorised countless planets for multiple years to add the rarest species to his collection. Once he heard about the creation of the Solmons he has sent his army of Solanians to find and capture them. It is up to you to save them and prevent Zamega from capturing them.
When you are adopting a Solmon you might encounter Zamega or a Solanian! Watch out!
Legendary Solmon
Out of all the 9999 Solmon 10 legendary Solmon will be created which will have even more unique attributes along with their own specific types. These will be the rarest of them all and will be stronger than the average Solmon.
Trainers
The team behind Solmon consists of four people, Quinn, Tracy, May and Jessie. All four of them have their own expertise. Quinn is mostly responsible for the creative side of things. His specialty is bringing ideas to life in the digital world. Tracy is responsible for communications and has an extensive background in crypto trading and NFT's. Then there's May and Jessie, who are the dynamic developer duo. Where Quinn and Tracy are mostly responsible for the front side, May and Jessie make sure everything keeps up and running on the backend. They have a background in software and game development. With all our powers combined we create a healthy mix of individuals that all shine in their own way.
Our Thoughts On The Solmon Drop
If like us you love Pokemon this has all the vibes of that but with a dose of originality and also, more importantly, an NFT angle. This could prove very popular with many NFT lovers out there so trying to get in early will pay dividends on this one.