A collection of 7777 unique randomly generated NFT gangster sharks testing their power in the cutthroat world of Chain City.
The Flash Drop – Ended
The Presale has now ended
Presale and flash sale has discounted price 0.07 from 0.08
The Main Drop – November 4th 2021, 9 PM EST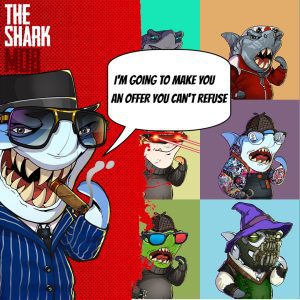 Yeah yeah, we all heard that story, everybody is living a happy and a nice life on the Ethereum blockchain, well that's over, The Shark Mob is here. A collection of 7777 unique gangster sharks all with a history of violence, testing their power in the cutthroat world of Chain City.
Every Shark is unique and randomly generated from over 170+ possible attributes and traits. Owning a Shark means you are part of a family that will give you exclusive access to multiple benefits both in the Metaverse and the real word. The Benefits of Being a Made Shark.
The danger comes with the territory, but being a made shark also has its perks, the family will reward its members with weekly giveaways and raffles, limited edition comics, exclusive merch, and bunch-off prices both in real life and the metaverse. As the money flow upwards so does the benefits. Holding more sharks will give you access to more special and exclusive rewards and prices. As the saying goes: What's better than one shark? More sharks!
Exclusive Game Access All TSM holders will have exclusive access to our online collectible card game, where players can build their crew and live the life of a mobster shark in the vivid era of organized crime. Territory will be divided between the 5 families, Hitokuchi, Mombu, Branchese, Mordano and D'argento each having its own unique races and characteristics.
Compete against each other, grow your influence, and help your family to dominate. Players will have the ability to use their influence gathered in the game to purchase weapons and improve their crew. Influence points will also be used as a game currency with the option to exchange it for custom merch, exclusive rewards or converting it directly to crypto.
More sharks, more power, larger TSM holders will have access to more powerful crew, better weapons, and a faster influence growing mechanic. Oppose all odds and become a real gangster in our Metaverse. Mob Structure Boss – 60+ Sharks Underboss – 40+ Sharks Consigliere – 25+ Sharks Capo – 15+ Sharks Soldier – 5+ Sharks Associate – 1+ Sharks (edited)
Click here to visit their website
The Shark Mob Roadmap
0 % THE BOOKS ARE OPEN – The first 10 TSM members that mint 20 or more tokens will receive a free Shark NFT, it could be rare, nobody knows. – Limited edition TSM merch will be awarded to 300 of our most active Discord members and early adopters.
20% GIVING BACK TO THE FAMILY – 20 ETH will be split among random minters.
50% LIMITED EDITION COMICS! – 100 randomly selected TSM members will receive a golden ticket, that will be used to redeem a unique and highly collectible NFT page from our future TSM Comic Book. – 20 ETH will be donated to a charity chosen by our community.
80% LIQUIDITY POOL – We will establish a Liquidity Pool with huge rewards for our members.
100% THE BOOKS ARE CLOSED – Launching our Community Fund to support the values of our awesome family. – 100 PFP extra hand-drawn with personalized traits for large TSM holders. – Free claim for all members on our next NFT project.
FUTURE BENEFITS – Development of our Comic Themed Play2Earn Online Collectible Card Game. – Metaverse development and integrations. – Even more exclusive merch drops for our TSM members. – Drafting new issues of our comic book. – Collaborations with brands and other projects.
Our Thoughts On The Shark Mob Nft Drop
The shark mob looks like another kool NFT project for collectors with a liquidity pool it could be rewarding long term to HODL these as well as the play to earn game in the works.
Don't forget to check our Nft Calander for the latest upcoming NFT drops and sub to our newsletter for kool NFT info.
The Shark Mob NFT Details