Nothing is better than a grilled 'toastie' (Aussie slang). We love the smell of it, the look of it, and how it plays with our emotions.
This is why we created ToastPunk, an inspiring, limited, and unique NFT series consisting of 1,000 toast faces. No two ToastPunk toast faces are the same (but each shares the same edible story).
If you love toast you will love this NFT Drop.
Drop date: Minting drop 2 now
Supply: 1000
Mint price: 0.09 ETH (drop 2) 0.19 ETH(drop 3) 0.49ETH (drop 4) 0.79 ETH (drop 5)
Click here to visit their website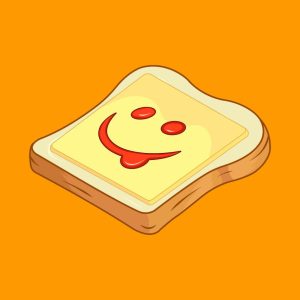 Why ToastPunk?
Put simply, ToastPunk is about celebrating the old (the 'real' world) and the new (the 'digital' world).
Every Sunday, the little kids (and the big kid) of our household would wake up, head straight to the kitchen, grab a few bottles of tomato (ketchup) sauce squeezies, cheese squares, and bread slices, and start squirting designs of toast faces.
We must have come up with over a hundred different combinations of toast faces over the years. From happy faces to sad faces, to pet faces, to alien faces, and more (mainly inspired from Roblox game faces).
Together, we decided it is time to challenge ourselves in making 1,000 unique toast faces to share with the world.
Our promise is that each ToastPunk toast face will never be identical to the other and once we have completed (and minted) the 1,000th ToastPunk toast face NFT, we will hang up our squeezies and never come up with a new toast face design ever again.
How do I get a ToastPunk?
We decided to give away for free the first 100 ToastPunks as an introductory pre-launch special. Please read this article by Digital Journal to find out what the press had to say about this. The short of it is, the first 100 ToastPunks all got 'eaten' up pretty quickly and we were extremely overwhelmed with the attention we received from the NFT community.
The balance 890 will be made available in several 'drop' stages through our minting page as per our Drop Schedule for you to 'mint' them as a first owner to be transferred to your crypto wallet and OpenSea account while the final 10 will be minted by us and made available for purchase through auction partners around the world where the proceeds will be given to charities selected by the ToastPunk Discord community. The ToastPunk Official OpenSea collection will display the entire collection. We will announce each 'drop' time on our Twitter page and Discord server so please join in the conversation earlier to be the first to know what is going on with our project.
Why is being the first to 'mint' so important?
If you are new to the crypto and NFT world, basically the act of you being first to 'mint' from an NFT project owner is similar to you buying at wholesale and getting the distribution rights to a product direct from the 'manufacturer' and then being able to onsell it or do whatever you want with it.
The best thing about NFTs though (which also makes it risky) is that there are so many new NFT projects that you can participate in as early-adopter 'minters' but it is entirely up to you which project your forsee being of value to you and to the crypto world in the future.
Check out the ToastPunk Drop Schedule & Roadmap here or visit our Minting Page to get started.
What can I do with my ToastPunk NFT?
Whatever you want really. Use them in your social profile pics. Resell them, create your own toast face breakfast using the toast face designs you own. It will be completely up to you.
Here's some other information on the Utility of ToastPunk NFTs.
How can I support this project?
The first step is to make sure you follow our Twitter page. This is where all official ToastPunk updates and news will be released. Secondly, gear yourself up with a crypto wallet (ie Metamask) and crypto (ie ETH) so you can 'mint' a ToastPunk. Minting is now live, so hurry and go mint yourself a ToastPunk.
Join our Discord server (ToastPunk Fans) for updates and to speak to the rest of the community about the greatest NFT since sliced bread.