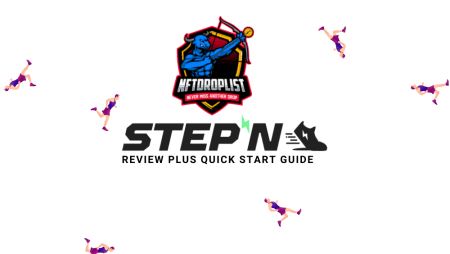 StepN is a SOL based project that could be part of a new hype in NFTs in the form of Move to earn game play, as it allows you to earn money just by walking, jogging, or running!
How does StepN Work?
Firstly StepN is an app that you can download from your app store, you will then need an activation code (I suggest in their Discord here they post codes every 5 minutes if you want one).
Once you have the code you can access the app and try it out, but you won't be able to earn anything without a shoe (an NFT based on Sol of a shoe that is) purchasing a shoe costs at the time of writing around 13 SOL.
Grab your shoe and then you can start earning while you are out walking, jogging, or running, simply follow the app instructions keep to the right speed of your shoe and keep the guidelines in the green to earn their very own token called GST (Green Satoshi Token).
Once you use your shoes they will need to be repaired which costs GST, you also need it to level up your shoe to increase its GST earnings each day amongst other things, but each day you will have a profit of GST.
When you have over 10 GST you can transfer it out, convert it to Sol or USDC and then send it to an exchange like Binance or Coinbase.
My Findings With StepN
So around a week ago I paid 12.5 SOL for my first shoe, as I am a dog walker I got a common walking shoes (there are rarer shoes etc at a higher price) but I wanted a low entry.
This in my currency was around £550, it was easy to get an activation code and easy to get SOL into the app wallet and to purchase the shoe (done within minutes) I then had to wait for the energy bar to fill which refill with 2 energy every 24 hours or so.
Once it was full I headed on my first walk, GPS, where I live, is fine and it tracker perfectly (if you live in valleys or bad GPS areas you may want to test the app out before buying a shoe).
Sure enough on my first walk i made around 6 GST profit after repairing my shoe, the next day the same then I decided to level up my shoe to level 6 (i bought a level 5) so I could earn more GST each day and speed up trying to get my original investment back.
Fast-forward to the end of week one I've managed to level up to level 7 and transfer out 1.6 SOL to my Coinbase…the added bonus being if I were to sell my shoes now its around 13.5 SOL floor price so its going well but I will add to this if things change.
My StepN Quickstart Guide
To get the fastest and easiest start in StepN I recommend the following
Activate the app and create a free account, then test out the app in your area with GPS on
If all is good and you want to purchase a shoe I recommend the following…

Level 5 – Common Shoe (you choose if you are walking get a walking shoe and so on)

Make sure to change the stats of a show before you buy so you can see base stats only and aim for a show with at least 5 resilience and at least 5 or more for efficiency, comfort, and luck don't really matter at the moment.
Efficiency is how much GST you will earn each day there is a useful calculator for this here > StepN Guide
When you are ready obviously try to get the cheapest shoe that ticks all the boxes, wait for the energy to charge up, and then begin earning GST, over time you will come up with what works best for you but for me I chose to level up a bit first and then just focus on earning GST and converting it to SOL (more upside in SOL now than ever in my eyes).
Conclusion
Yes it does have ponzi, pyramid schemes but you are still early if you reading this in May 2022 and the early ones in making money, there is still plenty of things being added and to be added to StepN too, their tokenomics are pretty tight and I can see it performing well over the summer months at the very least.
Let me know if you get a shoe and how you get on in the comments!