We will be launching Dynamic Duelers on BSC (Binance Smart Chain)on September 24th at 1600 UTC What does this mean exactly? It means that there will only be a total of 9500 mints between both BSC and ETH chains.
A collection of 10,000 unique heroes raised to fight. They are programmatically generated from over 250 unique possible traits and are currently living their hero life on the Ethereum Blockchain.
Mint Price: 0.25 BNB
Minting: September 24th, 2021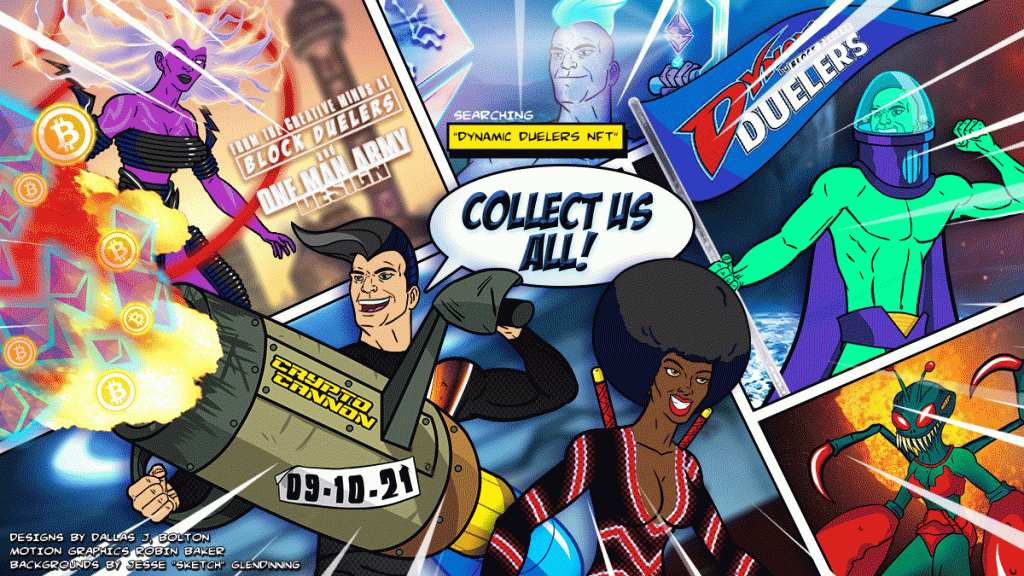 You will STILL be able to bridge your ETH NFTS to BSC and play on the game, SO DONT WORRY! To compensate, we will be airdropping a 2:1 ratio for each DYNAMIC DUELER NFT you have in your ETH wallet by September 27 @ 20:00 UTC.
This means you will get 2 NFTS on BSC for every 1 that you own on ETH… Also, to coincide with the launch, we have started a new competition that ends September 27th @ 20:00 UTC!
EVERY Dynamic Dueler you buy on Opensea and every Dynamic Dueler you mint is worth 1 ticket in our prize portal!
The more tickets you collect, the more prizes can win!
1. 5000 DC + high level NFT + 5 BDT + 2 DD NFT
2. 4500 DC + mid level NFT + 4 BDT + 2 DD NFT
3. 4000 DC + mid level NFT + 3 BDT + 1 DD NFT
4. 3500 DC + mid level NFT + 2 BDT + 1 DD NFT
5. 3000 DC + mid level NFT + 1 BDT + 1 DD
Spearheaded by the spectacular art of Dallas J. Bolton, our team at Block Duelers is bringing you a collection of uniquely generated superhero NFT's!
Each Dynamic Dueler is a composite image of striking complexity never seen in the industry before. We present you with over 300 assets, dispersed through 20 layers, across two different genders, all flowing seamlessly together, thanks to the meticulous work of our team.
With unique possibilities heading into trillions, it was a tough choice to limit our collection to only 12000 mints, but alas, quality demands finiteness.
Our Thoughts On The Dyanmic Duelers NFT Drop
Dynamic Duelers is taking the art game up a notch here, the whole project screams expensive, and every effort has been made to make this a project worth investing into.
A project with a bright future and definitely worth getting in early!
Dynamic Duelers NFT Details