This NFT moves, just like the market, just as our net worth. A world's first.
Its appearance will change over time, mirroring the reality we crypto investors all know too well.
80% of the investors lose to the other 20%.
So do these kids.
Drop date:
Supply: 10,000
Mint price:
Click here to visit their website
THE ORIGINAL MINT
The original 10,000 Kids will be minted, and you can start using them as profile pictures straight away.
1st EVENT (after 6 months): 20% OF THE KIDS Will get hilariously rich
As you will be able to tell by the valuable assets they will flaunt. The cool part? They've taken these valuables away from the other 80%. But don't worry. The others can make it back during the 2nd Event.
2nd Event – a new bitcoin All Time high or -70% from high: SECOND CHANCE
The 80% that lost their assets can make it all back during the Second Event, in which some of the poorest Kids can turn out ultra-rich. Because in crypto there's always a second chance.
Why the whole dynamic rarity thing?
Because it's the coolest idea anyone has ever had, anywhere. It's never been done before.
The dynamic rarity is a nod to the experience of a crypto trader. Battered, slaughtered, wiped out, then coming back, and taking everyone's lunch. This NFT expresses the risks we took, the pain we endured, the anxiety we lived through for years, before making it big.
Wear it like a badge of honor. Because this is crypto, and wagmi.
We will invest the NFT sale proceeds to build the ecosystem
We won't line our own pockets. Every penny will be spent on the project and the environment in which it has utility. With the proceeds we will mainly:
Support the NFT's value on the secondary market (OpenSea, LooksRare) by investing in ecosystem partners. We also pledge to keep marketing the collection until at least 2027.
Advance Captur.fi – which is where the NFTs have utility – in the crypto space and beyond. Asset management is worth 100 trillion dollars, and it is the next big vertical in DeFi. NFT holders will benefit from Captur's growth.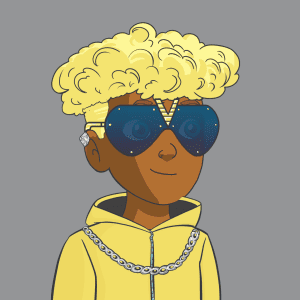 How about utility?
If you own a Kid, you can stake it on Captur. fi for nice things, such as a passive income, early access, and bonuses. These will be decided together with our community and will depend on the regulatory environment
Who's behind the Filthy Rich Crypto Kids?
Team
The team behind FRCK consists of marketers, artists, and coders led by Khing. Meet them on our Discord server. There are rumors of our lead artist having worked on Bored Apes Yacht Club (BAYC). We can neither confirm nor deny, because he may or may not have signed an NDA.
Visit Captur website and meet our Team
Captur
Captur solves the incentive problems between creators of trade ideas and investors and is coming for the $100 trillion asset management industry. On Captur.fi top crypto traders ("Eagles") can build a track record, build a following, and earn asset management fees from the investors in the Captur decentralized funds ("Wolves").
.
Filthy Rich Crypto Kids Details