Positives
The artwork and roadmap look very good and nice website
Negatives
Will be high demand for these
Each Ghoulie is unique, randomly generated from over 50,000 possible outcomes weighted by rarity. Traits include skulls, glasses, hats, clothing, jewelry, backgrounds, and more!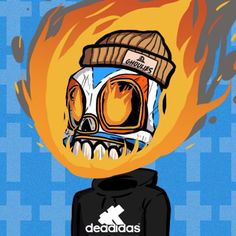 Dropping 25/26th September 2021
The Ghoulies are stored as ERC-721 tokens on the Ethereum blockchain.
Click here to join their discord
Click here to visit the Ghoulies website
A graveyard is where the dead sleep, or so we thought. After finding an ancient book a verse was read that awoke those in deep slumber.
No not the dead, but something far more ghoulish.
Numerous ghouls began rising from their slumber, awakening in a grave. You took this opportunity to show the dead what they cherish most, peace at last.
A mausoleum bar was built within the graveyard to keep the ghouls satisfied, where they can rest in peace.
A Video About Ghoulies
The Roadmap For Ghoulies
10% Sold – 10% – We purchase some new souls (Covid Free).
20% Sold – 20% – 10 Ghoulies will be Air dropped randomly to Ghoulies holders.
40% Sold – We Air drop a Mystic 1 of 1 Ghoulie to a randomly selected Ghoulie holder.
60% Sold – Limited Edition Merch drop including T-shirts and Hoodies.
80% Sold – We release the OG ghoulie sketch 1 of 1 at Auction for Charity + Big Eth give away for the Ghoulies community.
100% Sold – We Open the portal to the Underverse and begin our quest to locate the next creepy creation.
Ghoulies will be available for purchase on our website through an initial sale. At the time of purchase, a randomly selected Ghoulie will be minted on the blockchain and delivered to Opensea account and wallet.
How are the Ghoulies created?
Each Ghoulie is randomly generated by combining over 130 properties with varying rarities (Skull Design, Backgrounds, Shirts, Teeth, Hats, Earrings, Accessories, & many other rare unique additions).
How do I actually purchase a Ghoulie?
Download the Metamask extension for Google Chrome. Buy Ethereum (ETH) on an exchange like Coinbase, Binance, coinspot, etc, and send it to your Metamask ETH Wallet Public Address with an ERC20 transfer. Connect your Metamask Wallet to our website by clicking on the Chrome extension icon at the top-right of the browser (it looks like a Fox) while on our website. Click "Buy Now" on our website and approve the transaction on Metamask.
Our Thoughts On The Ghoulis Drop
The Ghoulies look like the type of NFT to catch on and sell out fast so make sure you get into their discord nice and early to be a part of this one, the artwork is good and the website is well polished which is a good sign, and at the time of writing, there are already a lot in the discord!
Ghoulies NFT Drop Details