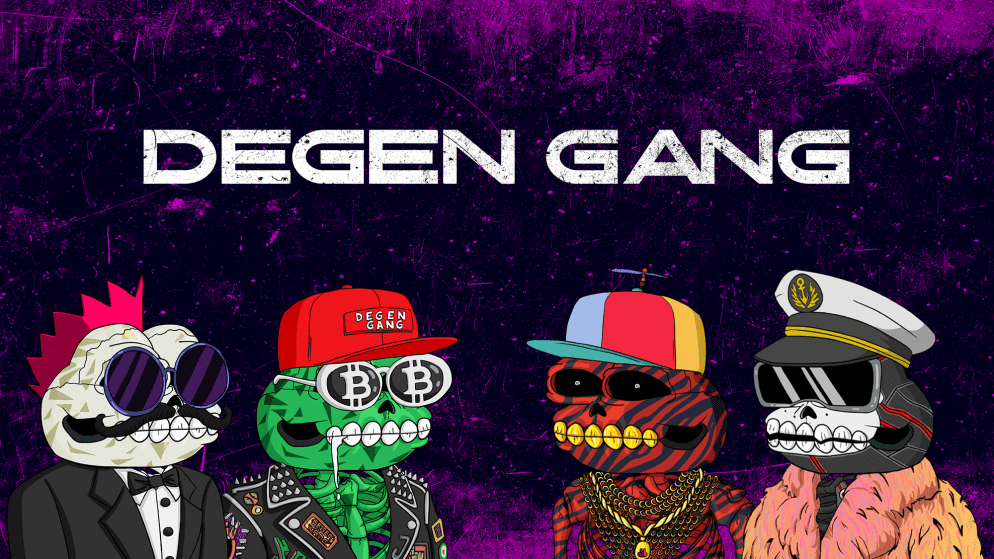 Ownership of a DEGEN GANG NFT gives full commercial rights to that character. DEGEN GANG members are inspired by collective artworks of internet artists. The project is not associated with Matt Furie.
Click here to join their discord
Key Features
7,000 DEGEN GANG NFTs
UP to 30 DEGEN GANG NFTs Per Transaction
0.06 ETH + gas
Random Minting
5% of sale funds will be used to buy the floor and push the DEGEN GANG brand forward.
Gang Members will be revealed shortly after the minting
EXCLUSIVE BENEFITS & MEMBERSHIP
DEGEN GANG Member NFTs are beautifully designed collectible characters that also serve as your ticket to exclusive content. We have loads of awesome features in the pipeline which we can't wait to share with you.
COMMERCIAL USAGE RIGHTS
Ownership and commercial usage rights are given to the consumer over their DEGEN GANG NFT.
You own it Frens.
BENEFITS & FUTURE
During development, we plan on holding plenty of giveaways and competitions. Winners will be awarded as Early Degen Gang Members on our Discord Server. More giveaways will be announced post-launch too.
During the sale, we will create a community liquidity pool where the community of DEGEN GANG Members will vote on how to spend funds.