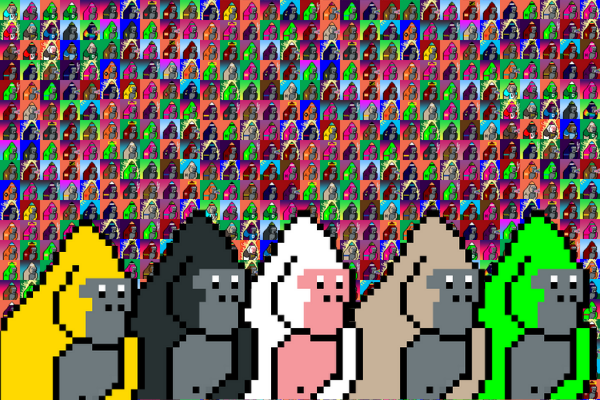 The Coolest Gorilla Club – Harambe Club NFT is 5,000 unique ERC-721 gorillas living on the Ethereum compatible Matic Network. Future game on The Sandbox! This Nft Drop will occur in December 2021!
Drop date: December 2021
Supply: 5000
Mint price: 15 MATIC
Click here to visit their website
About Harambe Club NFTs
– Mint now and have the chance to win 1000 matic! (winner is announced in our discord server once minting is complete)
– These are the next BlueChip NFTs – Expertly engineered with 50+ traits – Owning a Harambe will serve as a pass to play Harambe Club NFT games on The Sandbox metaverse (we spent $45,000 on 2 LAND parcels for this game)
– 500 Harambe Club NFTs were pre-minted and allocated to giveaways and promotions
– Resell floor price goal 0.015 WETH or higher – Welcome to the Harambe Club NFT When The Sanbox launches it's metaverse to the public, our premium parcels will attract a lot of attention. Your Harambe Club NFT doubles as a pass to the game experiences we are building, so you'll want to swoop them up while they're still affordable. Only 20 per person.
Phase 1 – Design 5k dope NFTs
– Host the art collection on IFPS and store them as ERC-721 tokens by deploying them to the Polygon Network
– Mint 500 of our Harambe Club NFTs for giveaways and community building
– Create and set up Discord, Twitter, Instagram, TikTok and Facebook
– Launch minting dapp – Purchase 2 parcels of LAND on The Sandbox for our future game experience on their metaverse
Phase 2 – Launch website
– Build secret chat group exclusively for Harambe Club NFT holders
– Build metaverse experience on The Sandbox – Build community through giveaways, collabs, and good old fashion advertising
– Sell all 5k of Harambe Club NFT collection
Phase 3 – Get listed on Rarity tools
– Aggressively scale the floor price to 0.1 ETH and higher by investing 10% of all royalties into advertising!
– Purchase more land on The Sandbox metaverse to expand the Harambe Club NFT game empire
– Build merch store for all Harambe Club NFT holders