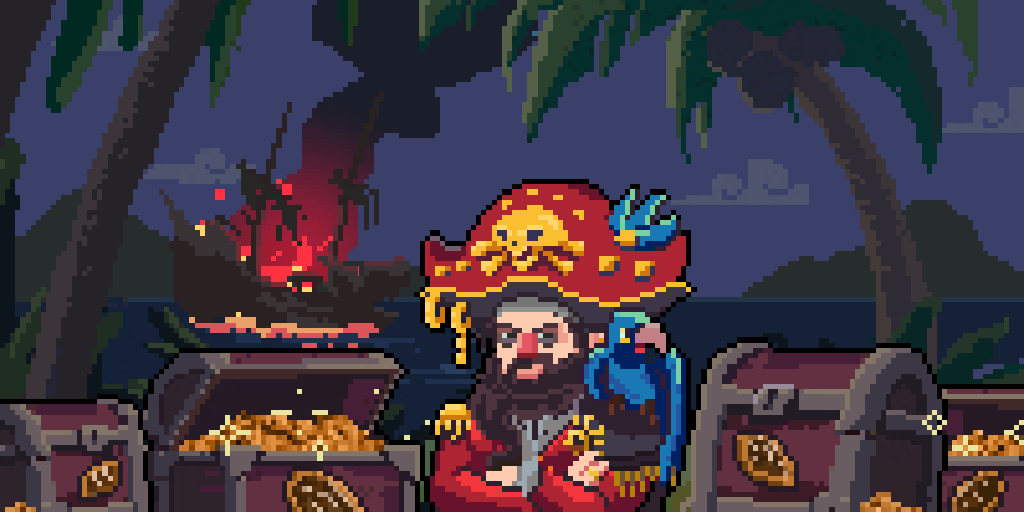 Ahoy, matey! Welcome to the Pirate Game – a play-to-earn game that brings today's most exciting mechanics to a risky quest for wealth.
Embark on a hunt for $CACAO – the most precious loot you can find in our dystopian metaverse powered by DeFi and game theory
Drop date: 16th December 2021
PHASE 1:
STOCK UP & START EARNING
With demand for $CACAO on the rise, mint your fleet of Galleons and a powerful Pirates crew. Stake ships and earn $CACAO daily, building up your reserves to prevail against a rapidly growing competition.
PHASE 2:
EXPAND & BUILD DEFENCE
The Golden Age of Piracy is here. With freebooters stealing more than ever before, Galleons alone stop generating $CACAO earnings. But there's still a way to make up for it — land. A series of 20,000 plantations available for minting can generate you $CACAO daily.
PHASE 3:
BATTLE ROYALE AT ITS BEST
The rivalry reached its peak — Galleons escorted by Brigs and loaded with weapons engage in direct confrontation with the skilled Pirates in open waters.
THREE WORDS TO NEVER FORGET…
GET FAMILIAR WITH KEY CHARACTERS, MECHANICS & $CACAO
GALLEONS
Galleons are your way to accumulate $CACAO daily. By minting multiple ships, you can set up your fleet and become a true $CACAO king. The chance of minting a Galleon is 90%. But remember — the Pirates are not to mess with. Whenever they claim their tax, you'll pay a fixed 20% of your $CACAO earnings. If a Galleon leaves your fleet and sets on a free voyage, Pirate ships will attempt a boarding attack to steal all of its $CACAO.
GEN 0: 9,000 NFT MINT FOR $ETH
GEN 1: 36,000 NFT MINT FOR $CACAO
PIRATES
Well, well, well… Look at you, Matey. Ready to become a true Buccaneer? Not so fast! Having a pair of sea legs takes patience and, yes, a bit of luck too — only 10% of the collection are Pirates. Aside from distinctive visual attributes, these buckos are divided into four ranks based on their experience ruling the oceans and finding treasures. They can steal your newly minted Galleons or recruit fresh Pirates. The chance of such an event happening is 10%. The higher their status, the more $CACAO tax they get and the greater the chance of getting a hijacked asset.
GEN 0: 1,000 NFT MINT FOR $ETH
GEN 1: 4,000 NFT MINT FOR $CACAO
$CACAO
The in-game currency of The Pirate Game and, yes, a valuable commodity indeed. Our $CACAO has grown on the Ethereum blockchain. While it might not serve well as chocolate snack, it does have other uses…