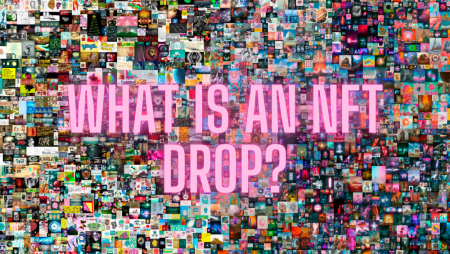 One of the biggest questions we get asked is What is an NFT Drop?
An NFT Drop is when a creator of either artwork, collectibles, or tokens launches their collection publicly for sale, this is usually scheduled ahead of time and is subject to a build-up and a marketing campaign in order to sell as many NFTs in the collection as possible.
How to prepare for an NFT drop
Your first NFT Drop is the hardest one that's for sure, make sure that you have the right amount of funds either in ETH (Ethereum) or WETH (Wrapped Ethereum on the Polygon Network) you must then take into account gas fees.
Gas Fees
One of the biggest issues for NFT drops is the gas fee (the cost of the network processing your transaction) this increases drastically at drops due to the huge sudden demand for transactions to be processed.
I would recommend setting aside another $120-$150 (£100-£125) if you really want to get the drop set your gas as the highest option in order for your chances to be improved, otherwise, you will probably get a failed transaction and no NFT from that particular drop which is disappointing, to say the least.
Discords
The other highly important thing to do if you want to get your NFT from the drop is to make sure you are in that project's discord (kind of a forum), this is because any time changes to the drop will be posted or announced in there.
There have been times where I have been in a discord group and the drop was done 30 mins earlier than scheduled so I managed to get the NFT while a lot of others missed out.
Discords are also great places for NFT giveaways and exclusive access to the team behind the NFT it gives you an opportunity to see what the community behind the projects is like and if it is worth minting at all.
Time Zones
Make sure that you have your time right for the drop, a lot of NFT Drop are scheduled in EST or timezones that are not UK GMT, so you will need to make sure you have the right time in your time zone to be prepared.
Often in the UK, these drops are occurring at midnight or 11pm our time and can be delayed quite often into the early hours due to unforeseen contract issues, etc, it's not uncommon for a drop to be delayed for a few hours or days.
Supply and Demand
Entering the discord can also give you an idea of how many buyers there are compared to how many NFTs are available, these days 10,000 is a common amount for an NFT drop, but if there is 12,000 in the discord chances are you are gonna have to be on your game to get one.
Reveal
Most NFTs at drop are placeholder images, this is because the NFT will be revealed at a set time usually after sell-out or a day or so after the drop, often you can pick up mints for a good price gas considered on Opensea later if you miss out.
Remember to wait for the whole collection to be revealed before you jump to a conclusion on the rarity of your NFT.
Rarity
After reveal you need to find out just how rare your NFT is before you consider selling it, you don't want to sell something for say 0.25 ETH that could be worth 2 ETH a few days later.
Most projects have properties or traits that can be viewed on your Openmsea account, they will have a percentage figure by them and the lower the percentage of the trait the rare your NFT in that collection is.
Summary
NFT Drops are very exciting and can really build hype for a project, the disappointment on the other hand if you miss out can be very bad so it's best to go into a drop knowing you are probably not going to get one that way if you do your even happier.
The secondary market (Opensea) is also a great place to pick up mints that people got at drops but are now selling before reveal for some strange reason.
be prepared to pay over the odds at a drop if you really want to get one, but if you fail to find the official open sea collection and pick one up there, keep your eyes peeled for paper-handed people selling for liquidity to jump into another NFT drop.